Lungwort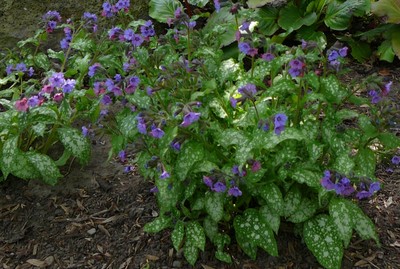 Common name
Lungwort
Latin name
Pulmonaria saccarata 'Mrs. Moon'
Types
Height
12"
Spread
24"
Light & Water
Zone
3
Bloom months
Bloom colour
Deep pink/deep blue
Foliage colour
Green/silver
Foliage categories
Variegated
Features

Deer resistant
Spreader/self-seeder ()

Notes

There are now many cultivars of Pulmonaria available. Pulmonaria saccharata 'Mrs. Moon' is the only one that we know has been proven to grow in low water conditions. Early bloom of pink and blue on same plant. Cut back after bloom to allow for re-growth of large silver blotched leaves - great addition to a shade garden.