When Jane and family bought their acreage in upper Ellison, the house was surrounded by a very large lawn bordered with well-established beds of hybrid roses and junipers.
Shortly after moving in, the natural water supply to the property changed drastically when road construction above the property rerouted the spring runoff that fed the well. By the end of the first summer there was barely enough water to supply the house. Through necessity and the desire to have a garden, Jane and family began to create a xeriscaped environment of native plants, aggressive re-seeders and spreading varieties – to fill up the spaces.
Jane states: "Some may say it's an over-use of certain plants, but anything that can survive on NO water is a welcomed friend here. They have endured many times of true drought, with no access to water due to water shortages from our well, or other mechanical problems and therefore if a plant can't survive the Okanagan heat with no water, then it just won't be very happy in our garden."
To add to the challenge, her plants must also be deer-proof.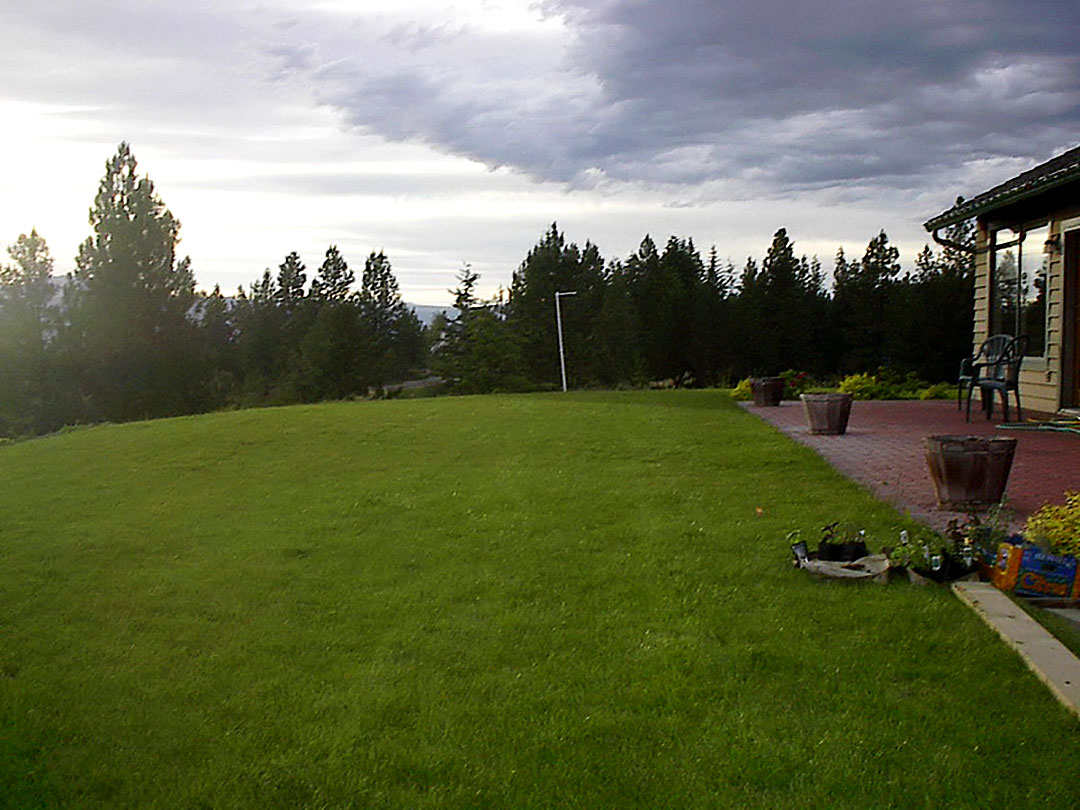 Youngberg extensive lawn before the xeriscape project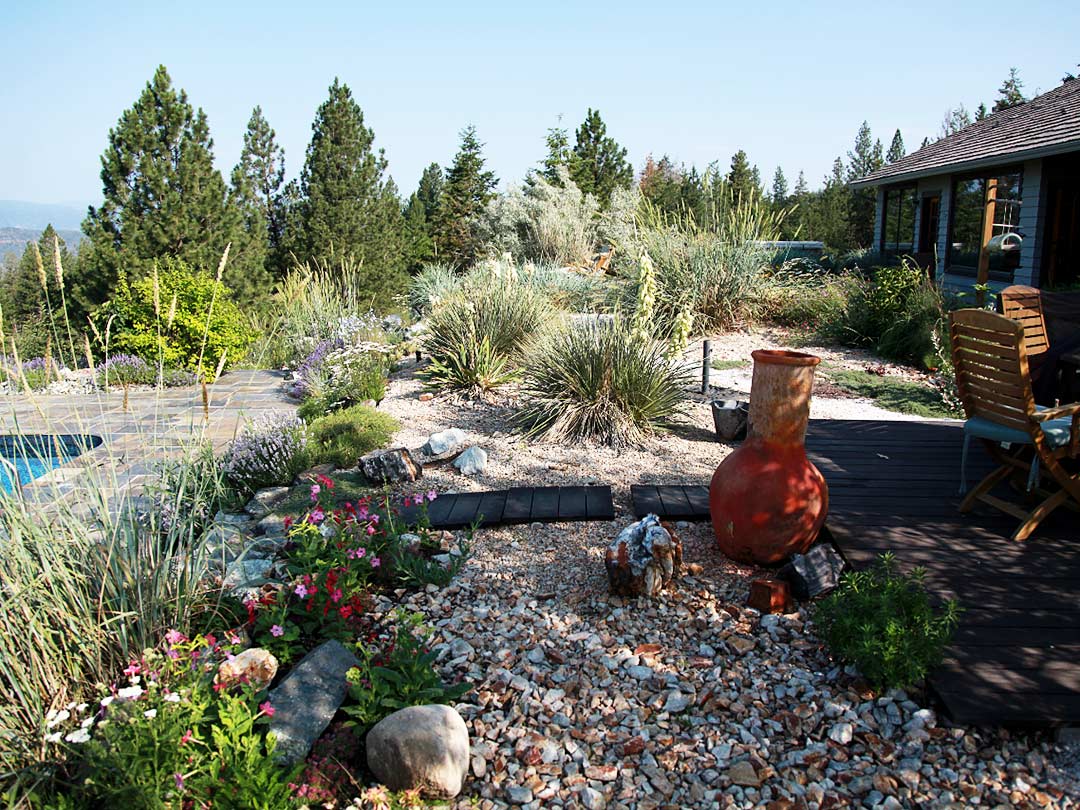 New xeriscape garden replacing the old lawn
A large area of lawn has been replaced by a desert-like garden of hardy cactus (Opuntia species), Yucca filamentosa and Yucca glauca, yarrow, California poppies, and blue lyme grass (Elymus arenarius). A sand dune/beach effect was created with some large pieces of driftwood, a few very large rocks, and a deep mulch of pea gravel around the plants. Even though the rock increases the heat effect, all of these plants do well in this setting, without supplemental water, as their natural habitat is in dry, rocky or sandy places. Rapidly spreading blue lyme grass also known as dune grass, and cheery, self- seeding California poppies flank the boardwalk out to the hot tub, some distance from the house. Other garden beds include hardy ice plant (Delospermum), many varieties of sedums, lavender, blue fescue, and hens and chicks. German iris varieties have abundant blooms in June. Russian sage has a shrub-like presence with a mass of blue flowers in summer. Elfin thyme grows between flagstones in the paths.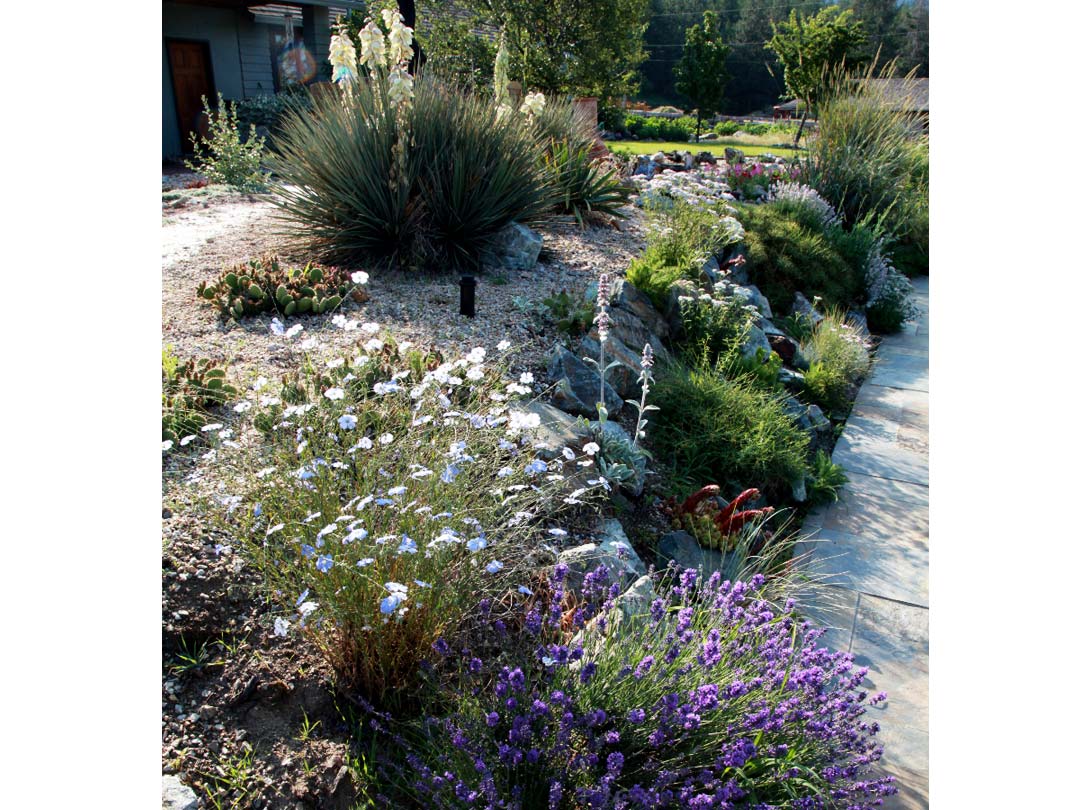 Dry plantings hold the sloping ground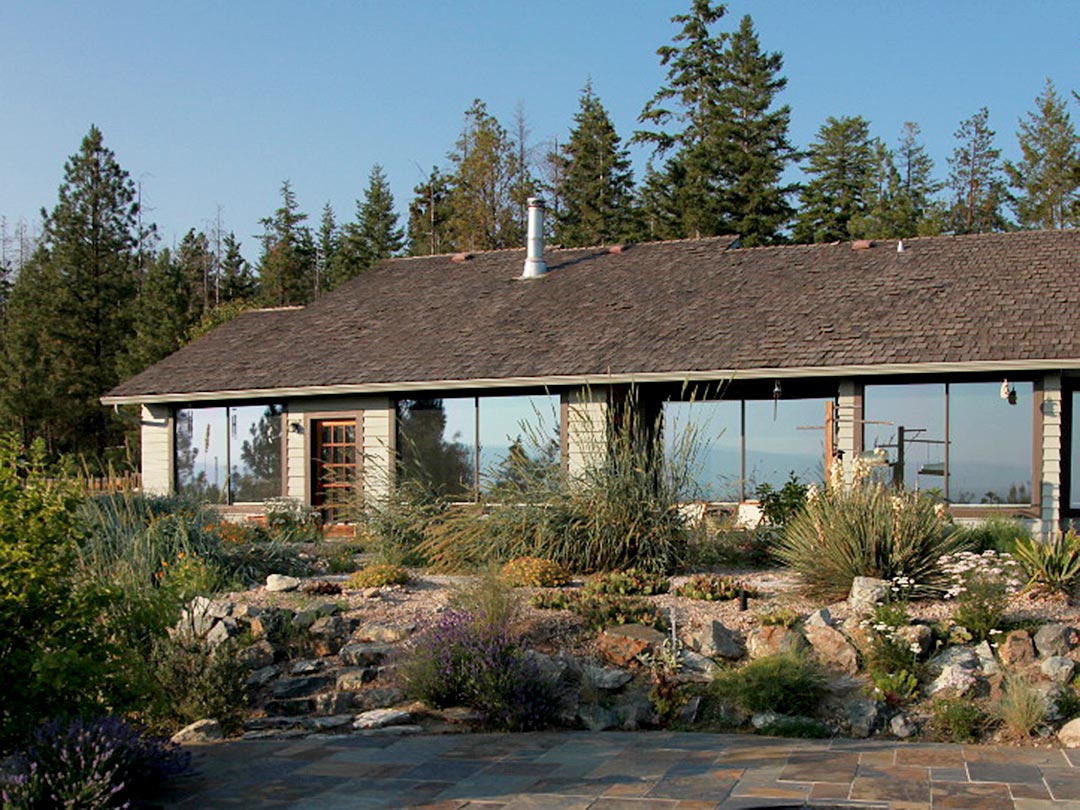 Xeriscape plantings compliment the house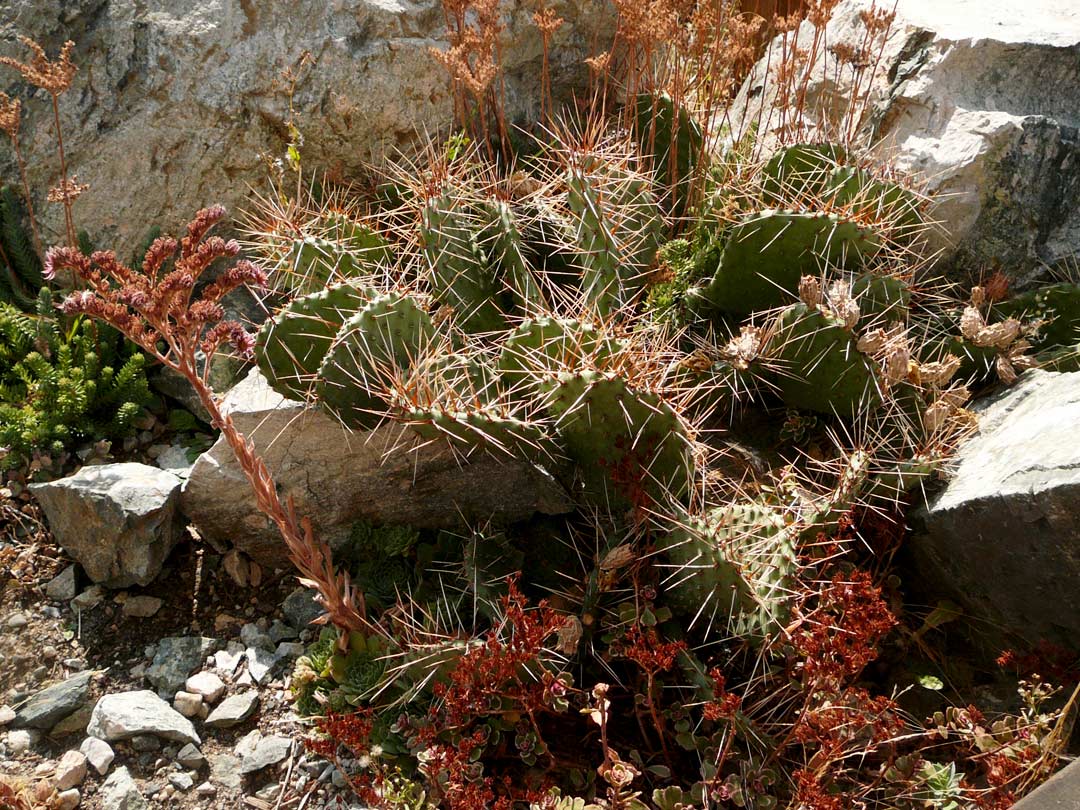 Hardy cactus combines well with sedums and "hen and chicks"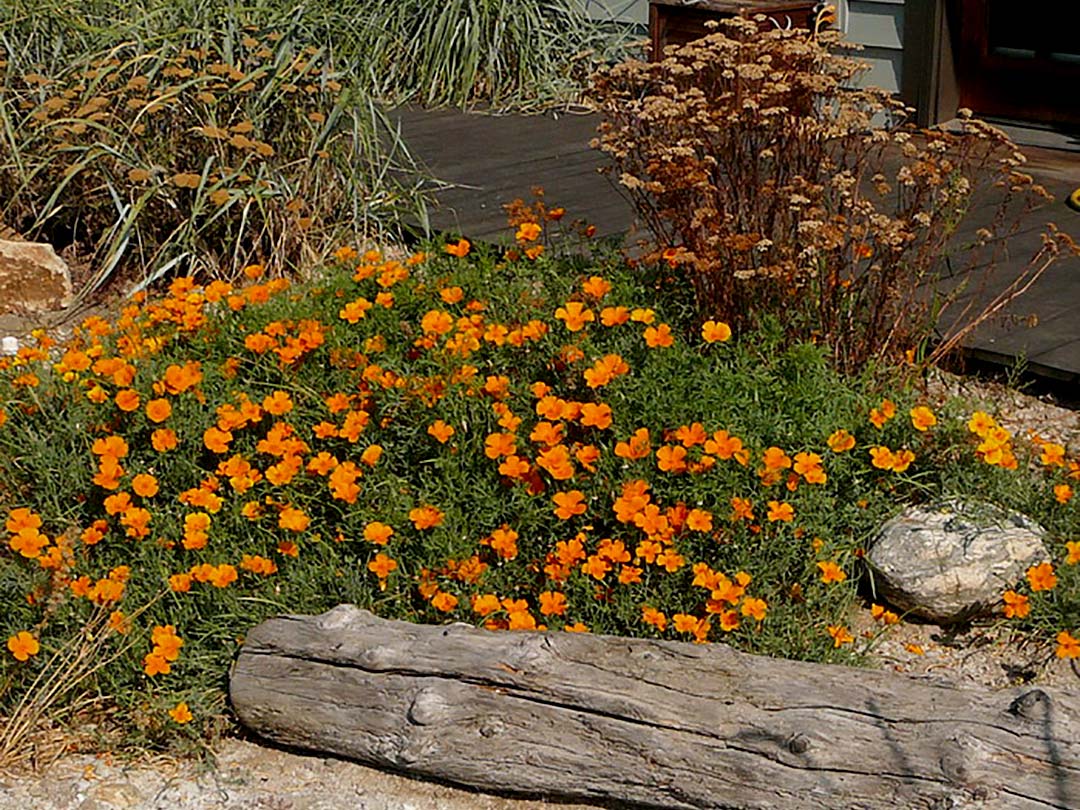 California Poppies re-seed and bloom from June to frost. Seed heads of native white yarrow (June and August bloom) are in the background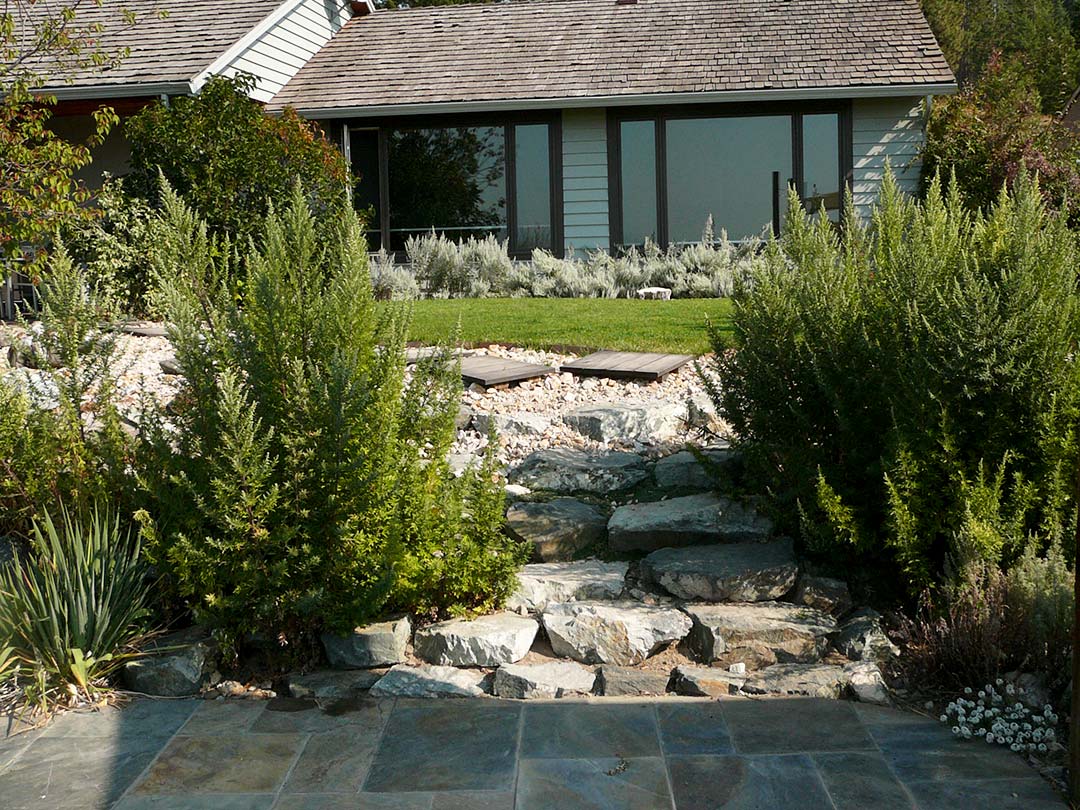 A small patch of lawn for dogs and children goes dormant in summer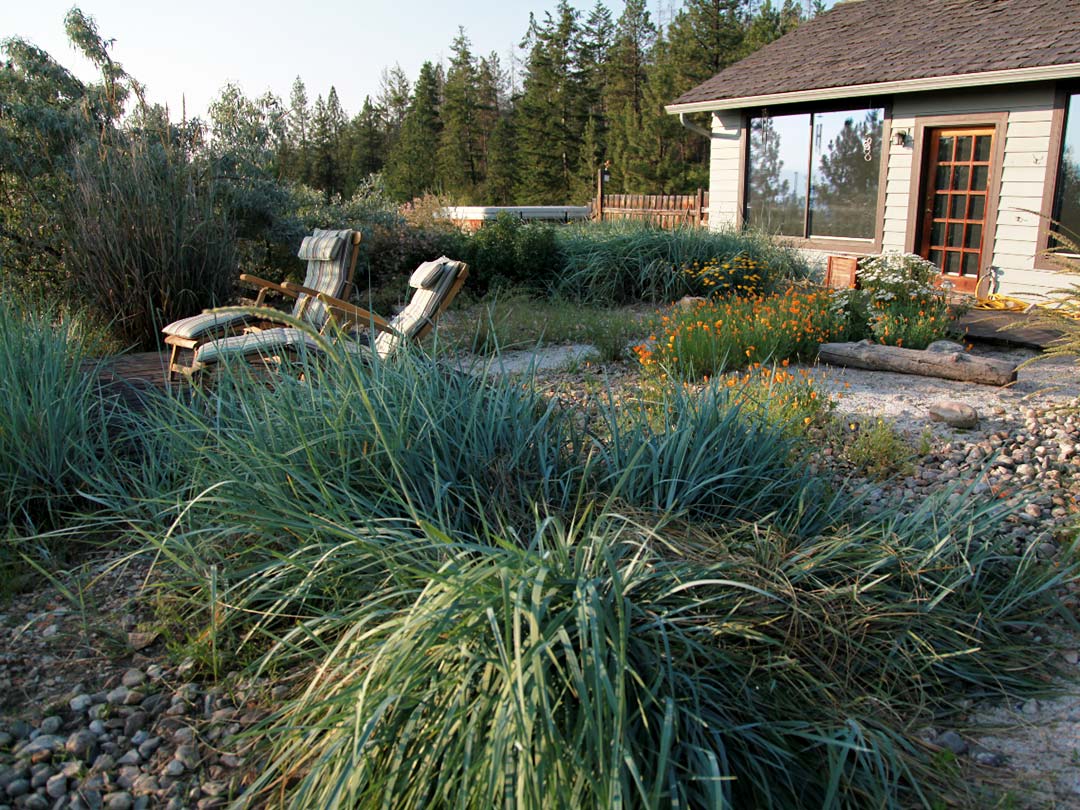 Spreading Blue Lyme Grass and California Poppies create a pleasant no-water, no maintenance rustic patio area with a distant view to Okanagan Lake
The property is in a natural landscape. This is the easiest, no maintenance, no irrigation landscape. Jane has encouraged the native plants and added more including sumac, wild rose, Oregon grape, and Saskatoon. They do have a small area of grass for their dogs and children. It is usually crispy brown by July but comes out of dormancy and greens up with rain and cooler temperatures, much like the surrounding native bunch grasses. The garden is an enjoyable project continuing to evolve through lots of trial and error.
Photos by Jane Youngberg and Gwen Steele
XERISCAPE IN ACTION
We will be showcasing many other xeriscape garden projects around the Okanagan as our site develops. We welcome your stories, photos and inspiration. Please contact us at: info@okanaganxeriscape.org
Share your xeriscape adventures with other gardeners in our community!