The Okanagan Xeriscape Association (OXA) is a not-for-profit organization formed in 2009 to provide xeriscape information for the Okanagan.
The OXA offers hands-on xeriscape workshops, classroom education, public xeriscape demonstrations, web libraries, and a searchable on-line plant database – all of which provide residents with the tools they need to create xeriscaped yards, communities, and places of work.
The vision of the OXA is for xeriscape gardening to become a desired and accepted norm in the Okanagan.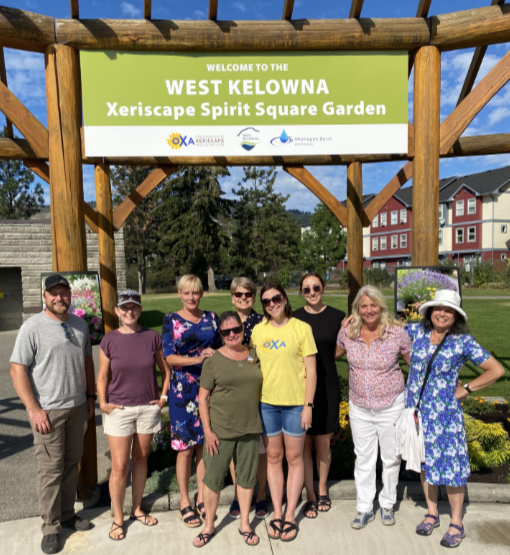 CONTACT US
To get involved with the Okanagan Xeriscape Association, or to learn more about how you can bring xeriscape to your neighborhood, please email us at– admin@okanaganxeriscape.org
You can also write to us at–
PO Box 25207 Mission Park PO,
Kelowna, BC     V1W 3S9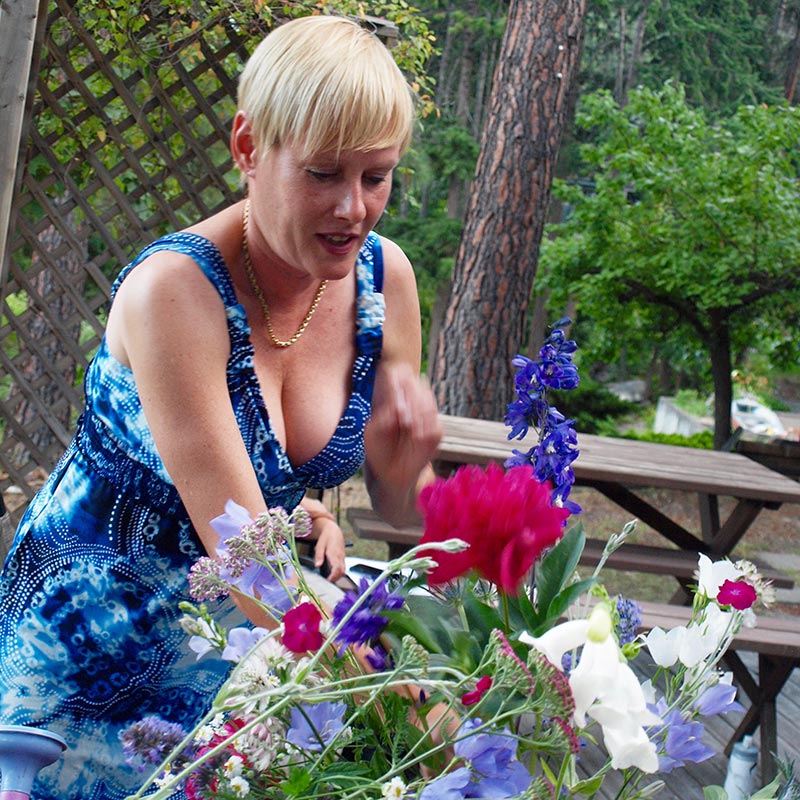 Sigrie Kendrick– Executive Director
I inherited my passion for gardening from my Australian grandfather, a renowned rose breeder in New South Wales. My interest in water conservation started early after a childhood spent growing up in the desert of Saudi Arabia, when a day of rain was cause for a national holiday.
After meeting Gwen Steele, co-founder of the OXA through the Master Gardener Program, I became passionate about promoting xeriscape. I joined the OXA board as a director in 2015 and became Executive Director in 2019.
When not promoting the principles of xeriscape and gardening for clients throughout the valley, I can be found on a rural property outside of Kelowna where I harvest thousands of litres of rainwater with which to water my own xeriscape gardens.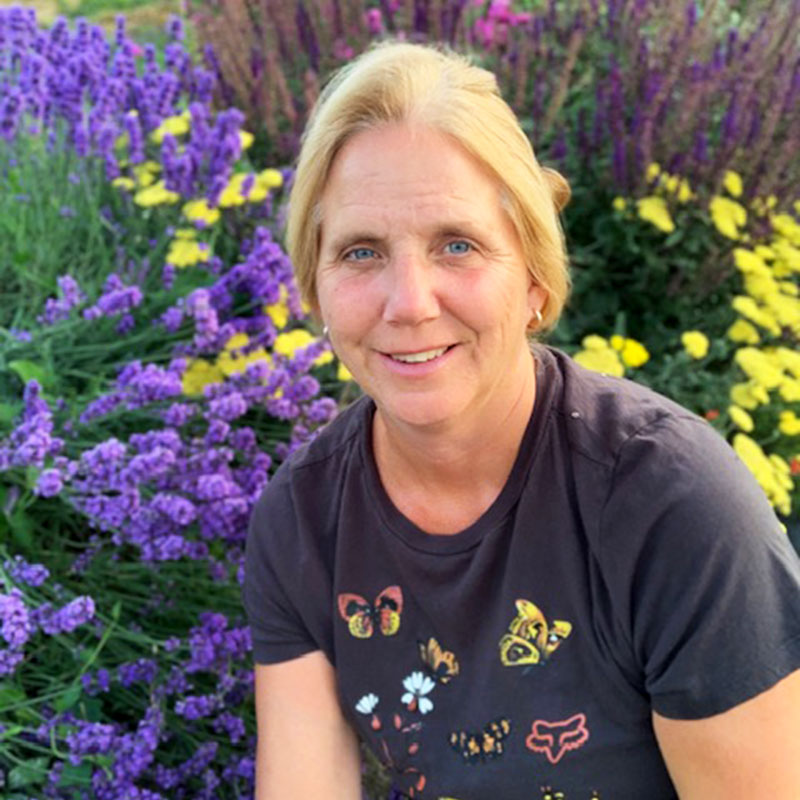 Joan Byrne– President
I am excited to continue working with such a great group in promoting sustainability and education around xeriscape.
My background includes a horticultural apprenticeship resulting in becoming a licensed journeyperson through Kwantlen Polytechnic University. For the past 11 years, I have owned and managed Wild Bloom Nursery and I am currently obsessing over starting native and uncommon water-wise plants from seed.
I also love introducing and trialing new plant varieties in my gardens and hope to increase the diversity of plant material available in the Okanagan. My gardens are messy and wild, but I like them that way!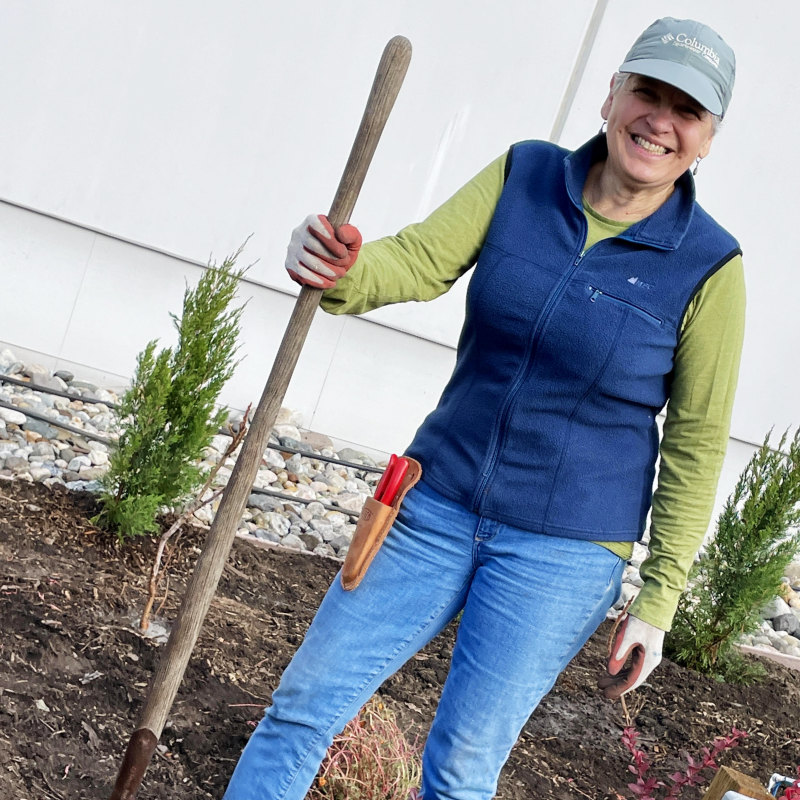 Sharon Spring– Vice President, Director, Social Media
My professional life was in corporate tech/sales/marketing in the computer industry but I have been retired for 20 years now. I have volunteered for lots of groups and clubs over that time. Most recently I spent five years on the board of the Masters Swim Club in Kelowna.
I began learning about xeriscape gardening (having moved from Ontario) from Ken Salvail when he renovated my gardens in 2004-5 and I have been an on/off member of OXA since its inception. I have been meaning to get more involved for a few years but I had too much on my plate. Now is the time! I think I can contribute organizational skills, a bit of tech-savvy, marketing & communication experience and a love of xeriscape gardening.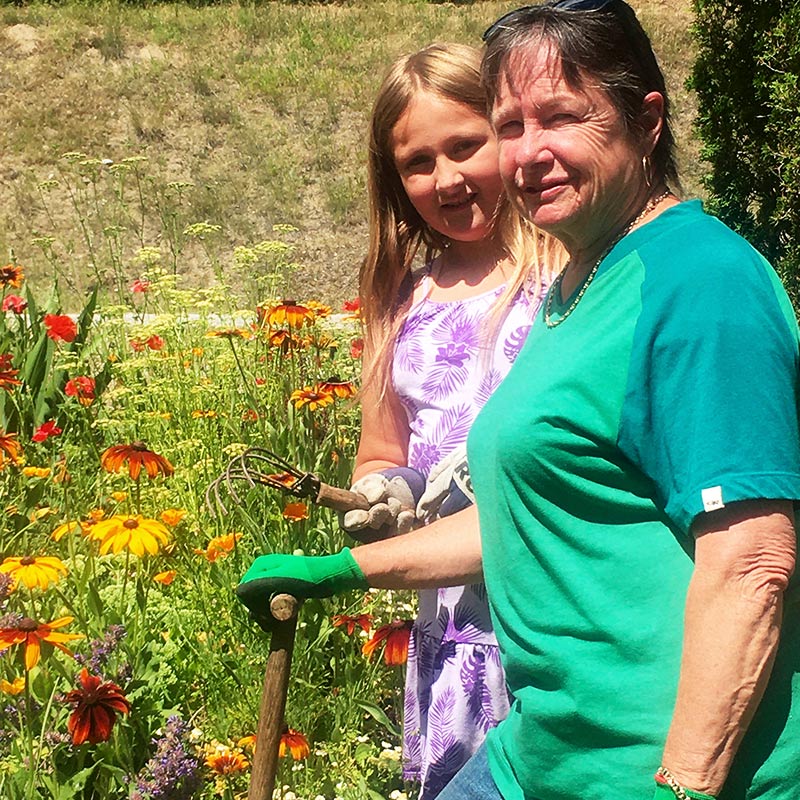 Judie Steeves– Past President & Director, Communications
Judie Steeves is president of OXA and she gets help in the garden from her granddaughter AJ.
She is a founding director of OXA and served as secretary before being asked to move into the position of president. She believes strongly that xeriscape is a natural fit for all landscapes in the dry Okanagan, not only to conserve water, but also for its beauty and colour.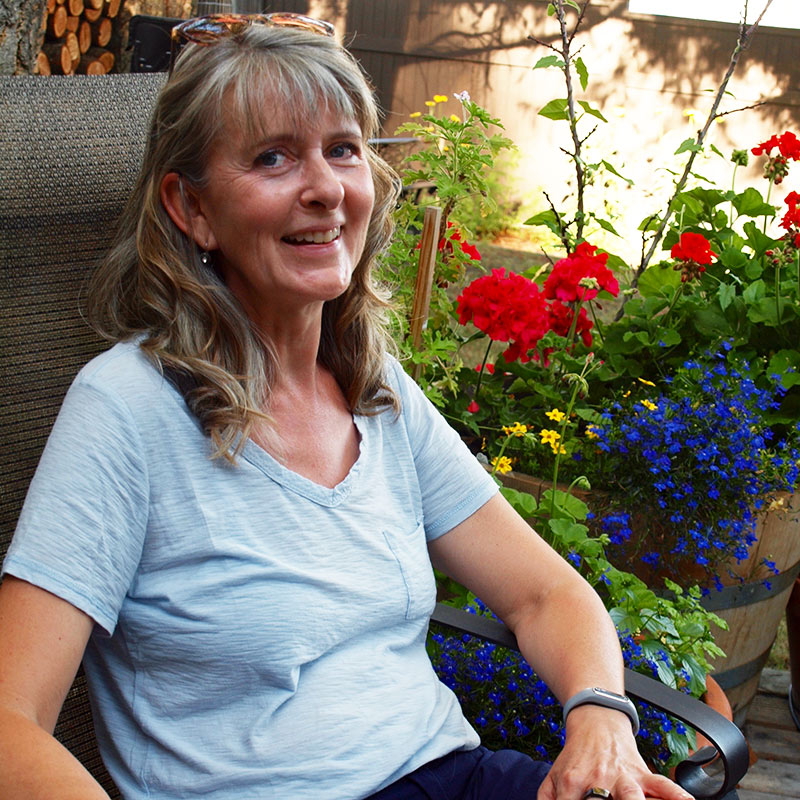 Lisa Masini– Secretary
I co-founded the OXA with a passion for xeriscape because it is an easy way to support the health of our planet and create beauty at the same time.
Every time I see a new species of pollinator in my garden it brings me joy and delight. At days end and last light, you can often find me admiring the small wonders of nature that my garden brings.
At the moment, I have the pleasure of acting as OXA secretary with a great group of board members.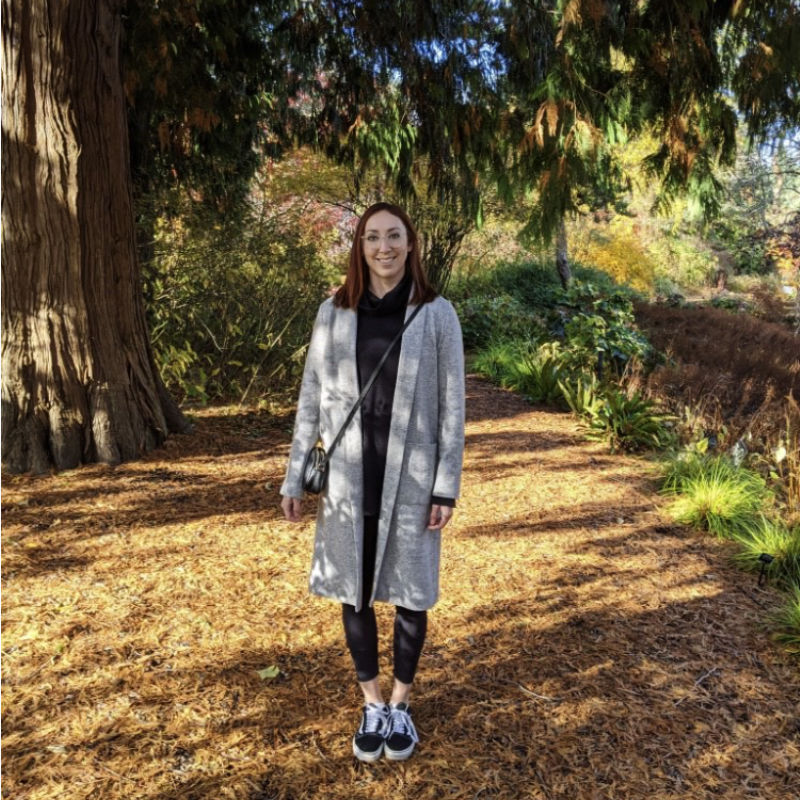 Amanda Price– Treasurer
I am a CPA and consultant who discovered a deeper interest in landscape design 5 years ago when I took the first steps to renovate my West Kelowna yard and develop a low-water use planting scheme over the following years.
To explore that interest further, I took the Landscape Design & Horticulture Certificate at Okanagan College in 2017 and have been a member of OXA ever since. As my own garden came together, I enthusiastically helped my friends and family transform their yards by providing design plans and installation assistance utilizing the xeriscape principles.
I am excited to contribute to such an important initiative to make the living spaces in our community sustainable.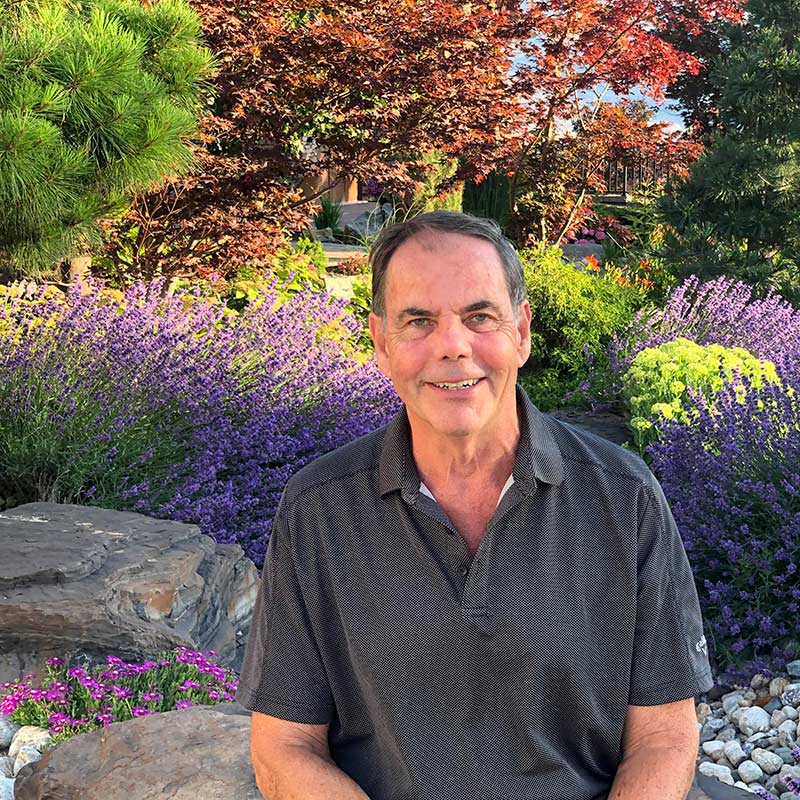 Mark Godlewski– Director, Technology
I moved to Kelowna from Calgary five years ago to take advantage of this wonderful climate and the opportunity to grow something other than poplar trees and lawns. I love designing imaginative and liveable outdoor spaces that integrate with indoor spaces and the neighbourhood.
I am keen to make OXA the go-to source for information on how to garden with nature in the Okanagan.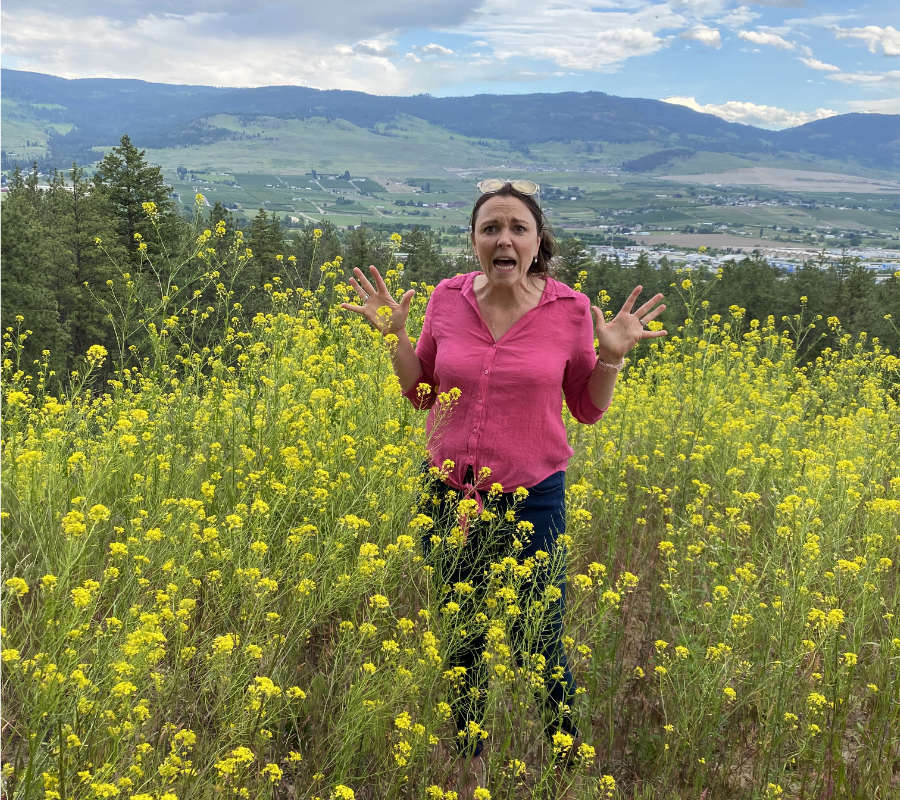 Jessica Hobden– Director
I am a local Biologist and business owner based in West Kelowna with my husband, two children and two dogs. I specialize in invasive plant management, habitat stewardship and community education.
The majority of my career has been spent working for the Okanagan and Similkameen Invasive Species Society. In 2019, my husband and I started a property maintenance company, which I help run, while leaving room for side biology-related contract work. I am passionate about environmental education and making spaces and places more environmentally friendly– from incorporating drought-tolerant, pollinator-attracting plants, to recycling. When I'm not parenting, working or worrying about the state of the world, I can be found running, reading or camping.
This is me standing in a clump of wild mustard, which is an invasive here in the Okanagan.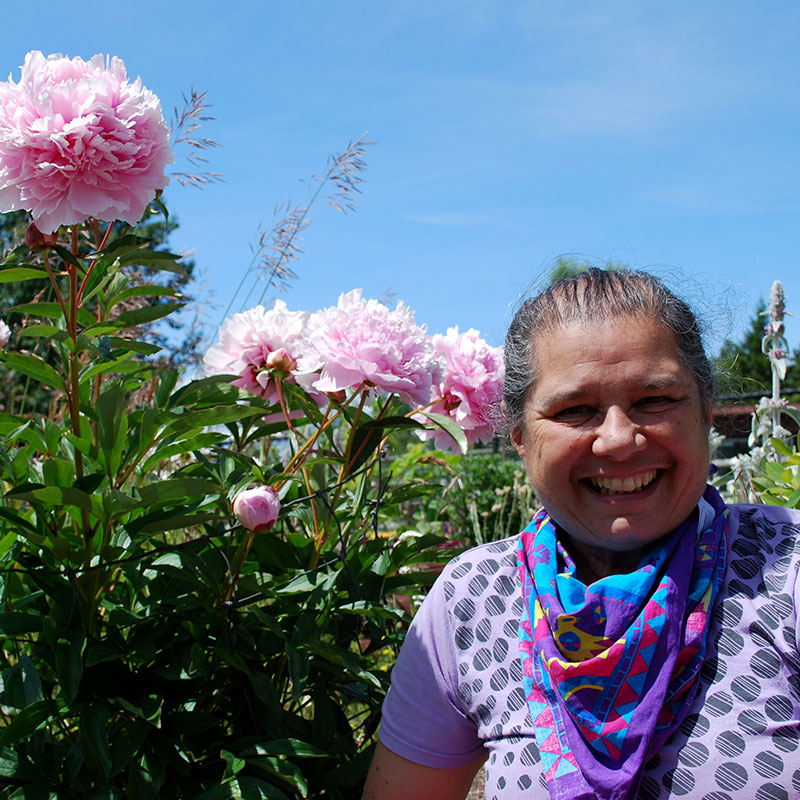 Vanda Mallinson– Director, Policy & Procedure
I have been a member of OXA since 2012 and have been a board member since 2014. My interest was sparked by the amazing plant database.
Living on a dry property, dependent on poorly producing wells, it was a no-brainer to learn more about Xeriscape. The results of gardening with nature: doing less work (which I may have taken to the extreme); less time spent watering; and a pollinator-friendly landscape is a pleasant bonus.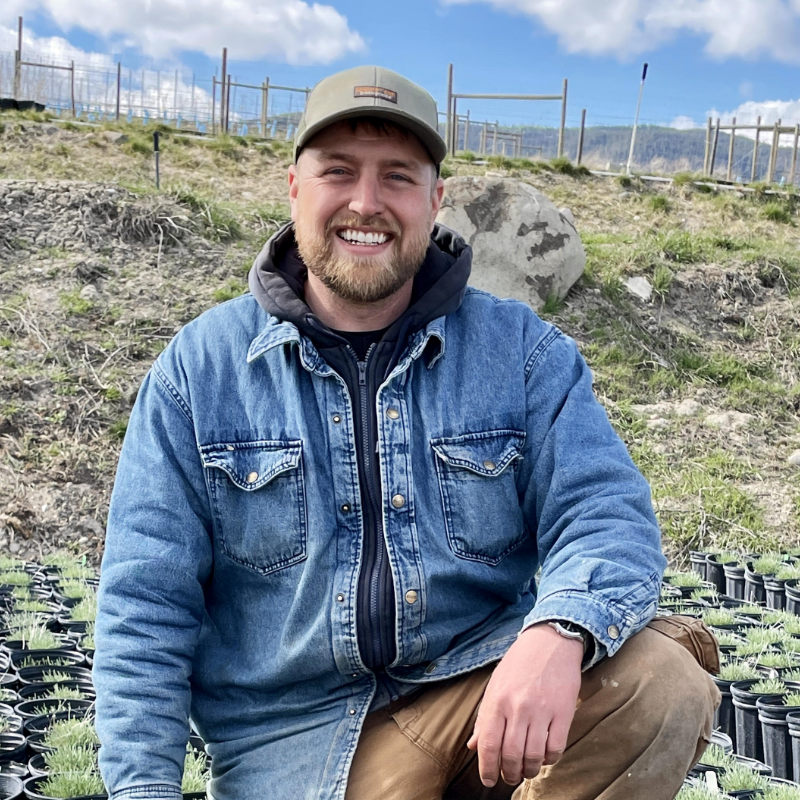 Josh Smith– Director
I am a plant biologist who fell in love with the Okanagan ecosystem while
attending UBCO. Following my passion, I now manage XEN Nursery in West
Kelowna, where we grow and propagate native and xeriscape plants for use
throughout the Okanagan on ecological restoration projects.
I have had the pleasure of meeting many of the wonderful people at OXA and
am excited to join the board to help promote the use of water-wise plants and
landscape design.
When I'm not out planting Ponderosa Pine and Snowberry on eroded and
failing hillsides, I can be found hiking, camping, and exploring the wonderful
and diverse environments of the Okanagan.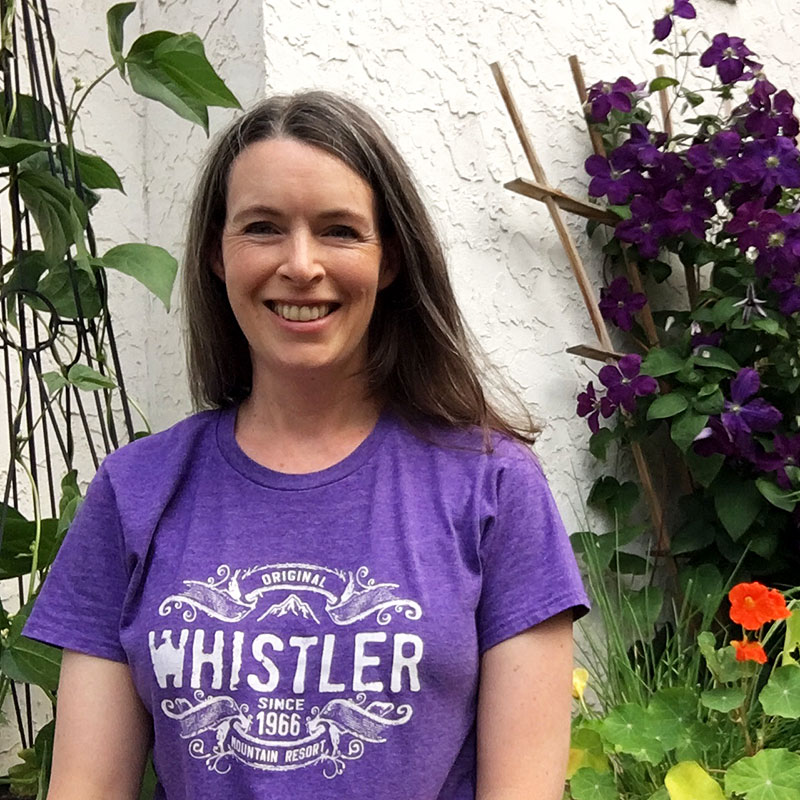 Melodie Lind– Founding Director
Melodie Lind, a partner in Pushor Mitchell Law, a founding director of OXA, but no longer on the board.
She is our legal advisor.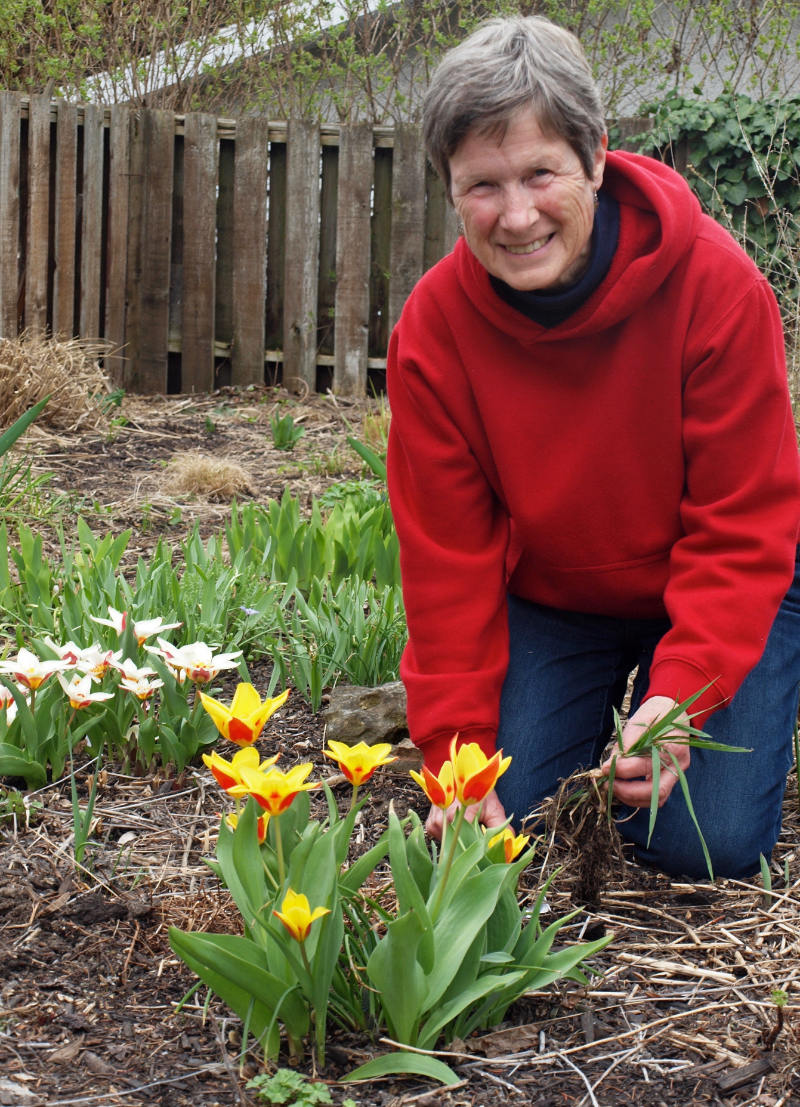 Gwen (Hughes-Games) Steele – Co-founder and Retired Executive Director
Gwen was born in Kelowna and has gardened here since early childhood. For over 25 years, she has studied, practiced and taught xeriscaping. She feels this is the simplest, most cost-effective and rewarding method of gardening and the best way to protect people and the environment.
Gwen was co-owner of the first xeriscape nursery in the Okanagan where many plants were trialed for drought tolerance in the ½ acre demonstration gardens. This information formed the basis for the plant database she created at www.okanaganxeriscape.org.
In 2009 Gwen co-founded the Okanagan Xeriscape Association to bring water-wise gardening education to Okanagan Valley residents. She was executive director for its first ten years.
Gwen was instrumental in the creation of the unH2O Xeriscape Garden and oversaw its maintenance by volunteers until 2016. In 2012 she initiated the annual plant sale and, for five years, oversaw propagation and running of the sale by volunteers.
From 2011 to 2018 Gwen wrote a weekly gardening column. Many of these can be found on the Capital News website.