The Pollinator Garden features drought-tolerant plants which are particularly attractive to pollinators, with blossoms that continue throughout the season, from the early perennial salvia and yarrows to the late-season Blue Mist Spirea.
To view a photo gallery of this garden, click the button below.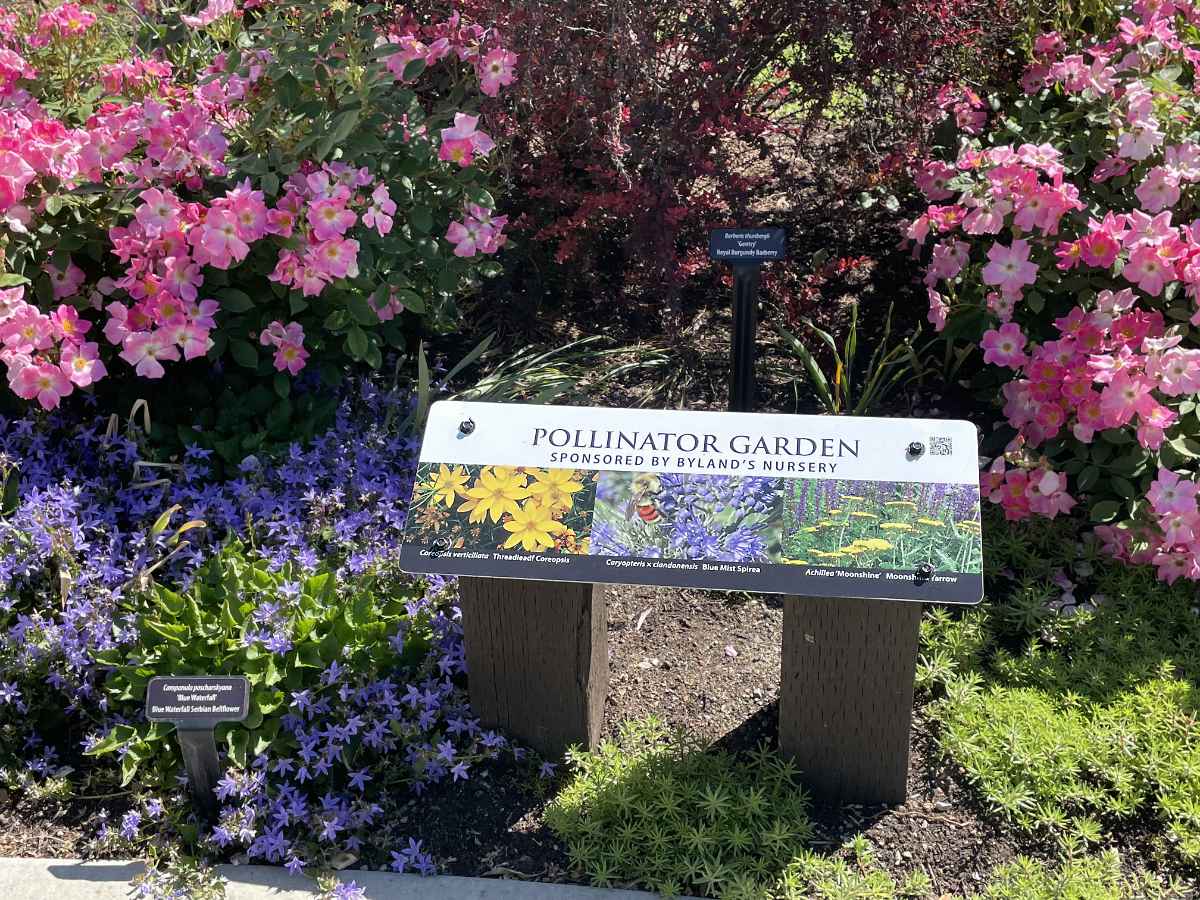 Plant List for the Pollinator Garden –
(Plants in the raised garden are part of the Pollinator Garden)
Achillea millefolium 'Moonshine'– Moonshine Yarrow
Achillea millefolium 'Paprika'– Paprika Yarrow
Achillea millefolium 'Terracotta'– Terracotta Yarrow
Aster frikartii 'Monch'– Monch Summer Aster
Berberis thunbergii 'Gentry'– Royal Burgundy Barberry
Berberis thunbergii 'Monbomb'– Cherry Bomb Barberry
Bouteloua gracilis– Blue Gramma Grass
Campanula carpatica 'Deep Blue Clips' – Deep Blue Clips Carpathian Bellflower
Campanula poscharskyana 'Blue Waterfall'– Blue Waterfall Serbian Bellflower
Caryopteris x clandonensis– Blue Mist Spirea
Coreopsis verticillata 'Zagreb'– Zagreb Threadleaf Tickseed
Deschampsia cespitosa 'Bronzeschleier'– Bronze Veil Tufted Hair Grass
Echinacea purpurea 'Magnus'– Magnus Purple Coneflower
Gaillardia x grandiflora 'Burgundy'– Burgundy Blanket Flower
Helictotrichon sempervirens– Blue Oat Grass
Heuchera sanguinea 'Palace Purple'– Palace Purple Coral Bells
Iberis sempervirens 'Little Gem'– Little Gem Evergreen Candytuft
Juniperus scopulorum 'Medora'– Medora Juniper
Limonium latifolium– Sea Lavender
Monarda didyma 'Cambridge Scarlet'– Cambridge Scarlet Bee Balm
Panicum virgatum 'Heavy Metal'– Heavy Metal Switch Grass
Physocarpus opulifolius 'Diabolo'– Diabolo Ninebark
Rosa rugosa 'Hansa'– Hansa Rose
Rosa rugosa 'Nearly Wild'– Nearly Wild Rose
Rosa x rugosa 'Blanc de Coubert'– Blanc de Coubert Rose
Rudbeckia fulgida 'Goldsturm'– Goldsturm Coneflower
Salvia x sylvestris 'Caradonna'– Caradonna Perennial Salvia
Check our Plant Database for details on individual plants.