Gardening with Nature
Article by Sigrie Kendrick
Perennials are better planted in fall, not spring
We humans are certainly creatures of habit and often continue our habits without questioning why. This
includes seasonal garden tasks.
Why, for instance, have we traditionally tried with almost maniacal zeal to plant all of our trees, shrubs,
vines, perennials and annuals in the spring?
Of course, annuals must be planted in the spring as by nature they only live for one season and are not
winter-hardy, but what about all the other plants we attempt to cram into our gardens before the heat hits?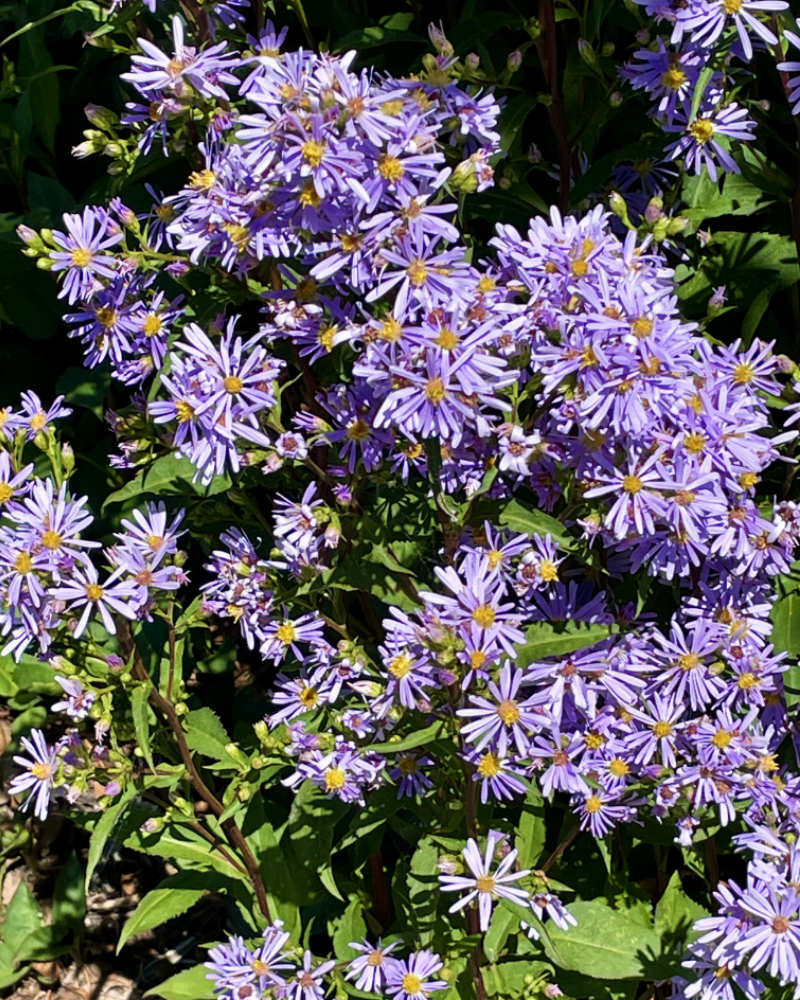 Aster conspicuous, Showy Aster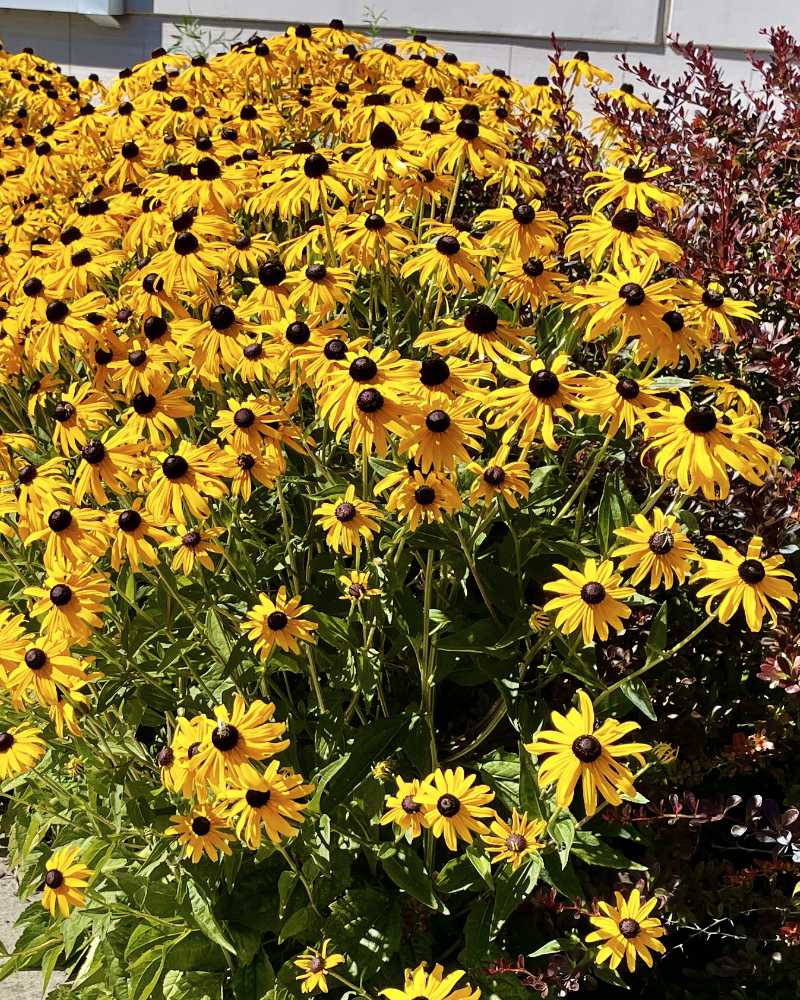 Fall is a much better time for planting perennials.
Your garden soil in autumn retains the warmth of the summer yet the ambient temperature is cooler
thereby allowing your plants to focus on establishing the good healthy root system necessary for a
thriving garden.
Fall plantings will be better able to establish a healthy root system and then slowly move into the
dormancy of winter, emerging the following spring better prepared for future 'heat domes'.
Our spring-installed plants are rudely met with hot, dry, and increasingly windy Okanagan summers
before having the time to establish a healthy root system.
Fall planting allows you to work with nature and use the natural autumn and winter precipitation to your
advantage rather than running around with hoses and buckets trying to keep new garden additions
watered in the summer heat.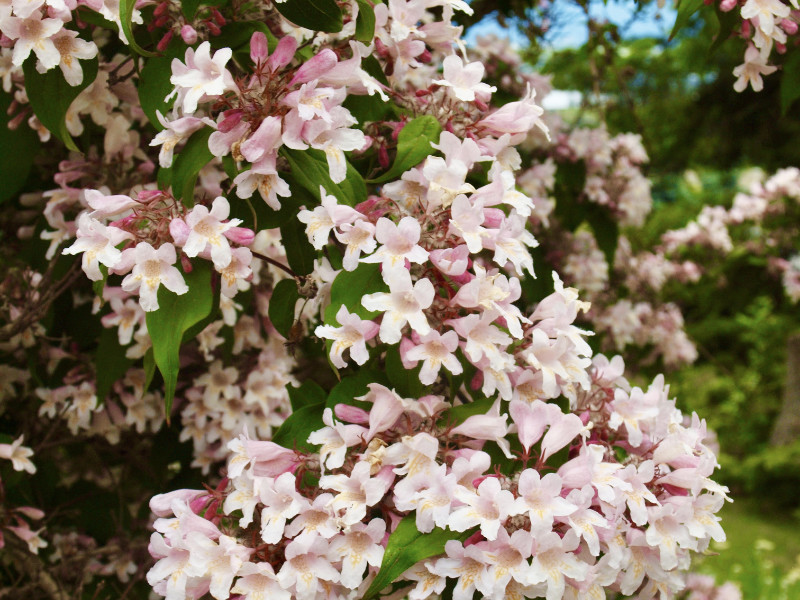 Kolkwitzia amabilis, Beauty Bush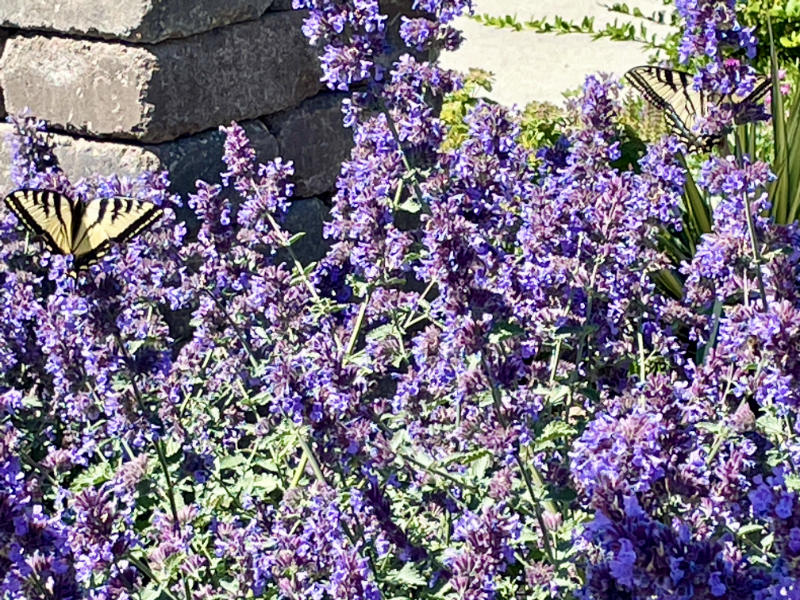 OXA's First Fall Plant Sale
One of the challenges of fall planting originates within the horticultural community as it has traditionally
focused on spring planting and has ordered plants to meet the needs of gardeners starved of the chance
to get their fingers in the soil.
To welcome autumn planting, the Okanagan Xeriscape Association is holding its first fall plant sale this
year, and we hope to encourage others to embrace the idea of putting in perennial plants in the fall.
Many of the plants featured in our plant database will be available for purchase at the UnH2O Xeriscape Demonstration Garden, 4075 Gordon Dr., Kelowna on Saturday, October 1st from 10 am to 2 pm.
Many of the stars of the fall garden will be included in our sale, including ornamental grasses, sedums, and asters.
For instance, Schizachrium scoparium 'Blue Heaven' which has been chosen as plant of the year by the Perennial Plant Association. This ornamental grass features steel-blue foliage during the summer that slowly transitions to purple, red and orange shades and is extremely forgiving of poor soil and drought conditions.
Also available will be Panicum virgatum 'Blood Brothers' which has been featured on our website as Plant of the Month. As a lover of red plants, I am absolutely enthralled with its foliage which transitions to a deep wine colour as the temperature dips.
It has been said that "nature abhors a vacuum" and if you have a sedum somewhere in your garden, you won't have a weed in its place. We will have a variety of sedums available, both tall—such as the cultivars 'Autumn Joy' and 'Matrona'—and ground covers, such as Sedum rupestre 'Angelina' and 'Blue spruce,' as well as 'Dragon's Blood'.
All of these sedums attract pollinators and the tall sedums are fall bloomers and good choices for extending interest in the garden—for people and insects alike.  Both tall sedums and ground cover sedums are excellent choices for sunny, dry areas of your garden and are especially well-suited for planting in rock gardens.
Asters serve as some of the brightest colour in the fall garden and none are better, in my opinion than Aster frikartii 'Monch'. This Aster starts blooming in July and continues its delightful pale purple blossoms through to fall without the usual need for time-consuming deadheading.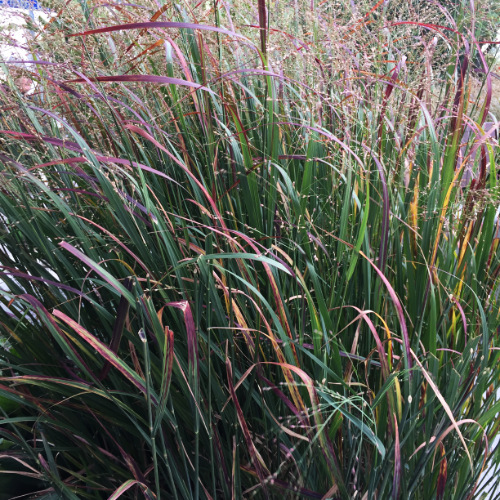 Panicum virgatum 'Blood Brothers'
Follow OXA on Facebook and Instagram for fantastic photos of inspiring xeriscape gardens from around the valley which dispel the myth that xeriscape is simply rocks and cacti.
Sigrie Kendrick is a Master Gardener and Executive-Director of the Okanagan Xeriscape Association. She can be reached at 778-363-8360 or by email at exec_dir@okanaganxeriscape.org.